GET YOUR
'SPIRIT'

WAR-BABY, NOW!!
---
Salutations Reader, This post is to point out that these Not For Sale Atomic Baby Clones; "Can be 'Acquired' as a War Lord Reward on the crowdfunding platform Patreon.com/StarArena."
These Sub Commercial Limited Editions 'War Baby' Works of Art are Uniquely and Sequentially Numbered, Guaranteed One Of A Kind! This Spirit War Baby can be Yours, and 'Only Yours' for the Coin or Credit amount of; € 480,- (ex VAT)
Your Purchase & Patronage will help in the further Game Development of StarArena Games. The Unique Battle Clone below has Serial #017.128A and is 1 of 8 from Atomic Baby Clones: Ultra Toy Set_03. This Toy-Pack contains: 1x Infantry Spirit Baby Clone, 1x Modem_3.0, 3x Star Coins, 1x Meta Coin, comes with a Certificate Of Authenticity and is Signed By The Creator.
These *Big Daddy* Benefactors, who dare adopt a War Baby? Are given the Status of War Lord in the StarArena_MetaVerse records and archives! All Support is received with; "Glory & Gratitude".
AETHER-SOLDIERS: SPIRIT WAR-BABIES
The counter-balance of Black Ops are the 'Blanc Ops' performed by the Children of Chū-shin. (宙神) Whereas the Covert missions are blacked out and redacted. The Overt Blanc Ops are never recorded and known only to Cosmo Operatives that survived and the Commanders that issued the Orders.
As the 'Guardian God' of the 'Cosmopolis' and the 'Cosmic Wind' that blows through the Aether Net. The Bright White War Babies are bestowed with the task of being Guardians and Messengers of The Gods. Not that the Titans are unable to defend themselves, but when the 'Guardian Gods' gather on matters to be determined in chambers by the 'Octarchy; "They Like Their Meetings To Pass In Quiet And Without Disturbance."
Both the 'Shadow & Spirit Operatives' are Uncommon in the General Deployment of Soldiers in the StarArena_MetaVerse. Disappointment? Please, don't be; This must be seen as a blessing among all of #GodsViciousBabies. When Aether & Nether Clones start making regular appearances on the Battle Grid in larger numbers? The War Against Evil Forces; Has Taken A Bad Turn!!
---
Only Available

Via

Patreon!
The Product is Packed and ready to be shipped worldwide! Transport costs are included in the Patron Price, so: € 480,- (ex VAT) All Inn. The outside dimensions are W: 40 x H: 25 x D: 15 Centimeters and weighs ± 1,25 Kilograms. Use PayPal or Credit Card. Once you have been charged, you can 'LOWER' your Membership to a comfortable monthly amount and keep supporting #GameDevelopment! So; Who Dares Adopt A War-Baby!?
*WHEN 'BATTLE UNIT' IS SOLD, BUTTON BECOMES WARLORD REGISTRY.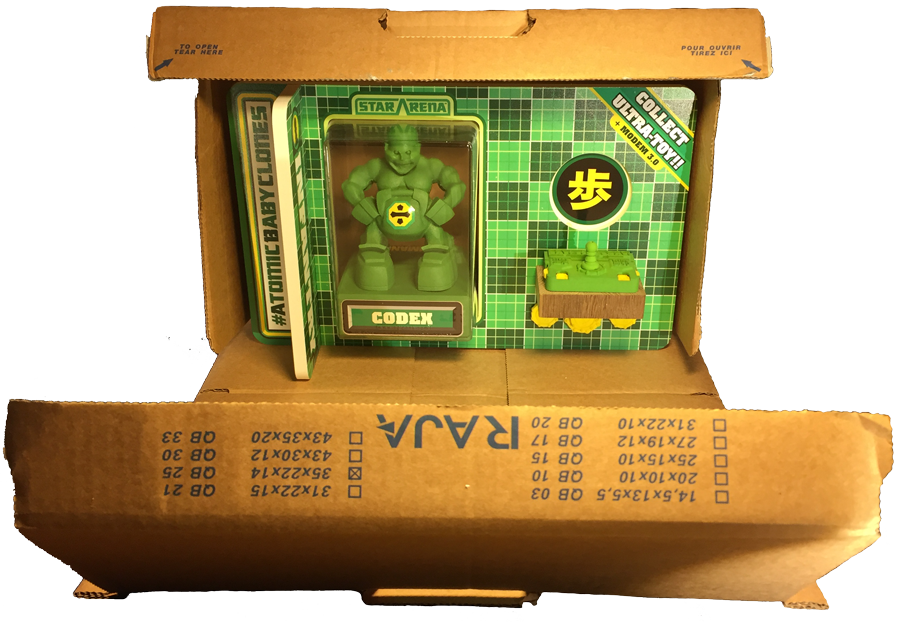 *No~Worries; You will get the Correct Color Clone!
I only took the Green Toy Box picture… Not knowing I was gonna use it…
---
See The Making-Of: Toy-Series_A On ArtStation.com/StarArenaGame
View the Baby Toys in these two Toy Sets below:
Next: Series_C (Index)