GET YOUR
'MECHANIC'

WAR-BABY, NOW!!
---
Salutations Reader, This post is to point out that these Not For Sale Atomic Baby Clones; "Can be 'Acquired' as a War Lord Reward on the crowdfunding platform Patreon.com/StarArena."
These Sub Commercial Limited Editions 'War Baby' Works of Art are Uniquely and Sequentially Numbered, Guaranteed One Of A Kind! This Mechanic War Baby can be Yours, and 'Only Yours' for the Coin or Credit amount of; € 480,- (ex VAT)
Your Purchase & Patronage will help in the further Game Development of StarArena Games. The Unique Battle Clone below has Serial #023.128A and is 1 of 8 from Atomic Baby Clones: Ultra Toy Set_03. This Toy Pack contains: 1x Infantry Mechanic Baby Clone, 1x Modem_3.0, 3x Star Coins, 1x Meta Coin, comes with a Certificate Of Authenticity and is Signed By The Creator.
These *Big Daddy* Benefactors, who dare adopt a War Baby? Are given the Status of War Lord in the StarArena_MetaVerse records and archives! All Support is received with; "Glory & Gratitude".
ARENA_SOLDIERS: MECHANIC WAR-BABIES
Another breed of War Babies are the children of Iwagami. (岩神) These Chocolate Colored Cyber Clones are what keeps the War Machine rolling! Besides being formidable fighters, they do maintenance and upkeep on anything in the Mechanized Infantry! Without these 'Specialists' from the Rocca Dominion in The Army of The Arcade; Many A Clone Would Never Have Come Home!
When you consider that the majority of Battle Clones in Active Service are comprised of Bio Mechanical Hardware, and when they endure Battle Damage out in the field? It takes a 'Mechanic' to patch them back together again! Depending on their Training, Experience and Skills, their titles can range from: Mech, Medic, Master-Mechanic or Engineer!
These Rock Clones are one half of the Emergency-Mech-Tech units that serve in the Armed Forces and are an invaluable asset to your Data Base! That is if you want Equipment and/or Body Parts 'Fixed' in the heat of battle!? Another good reason to keep some of these Mech's around is the fact; "They Excel In Demolition!"
---
Only Available Via Patreon!
The Product is Packed and ready to be shipped worldwide! Transport costs are included in the Patron Price, so: € 480,- (ex VAT) All Inn. The outside dimensions are W: 40 x H: 25 x D: 15 Centimeters and weighs ± 1,25 Kilograms. Use Pay Pal or Credit Card. Once you have been charged, you can 'LOWER' your Membership to a comfortable monthly amount and keep supporting #GameDevelopment! So; Who Dares Adopt A War-Baby!?
*WHEN 'BATTLE UNIT' IS SOLD, BUTTON BECOMES WARLORD REGISTRY.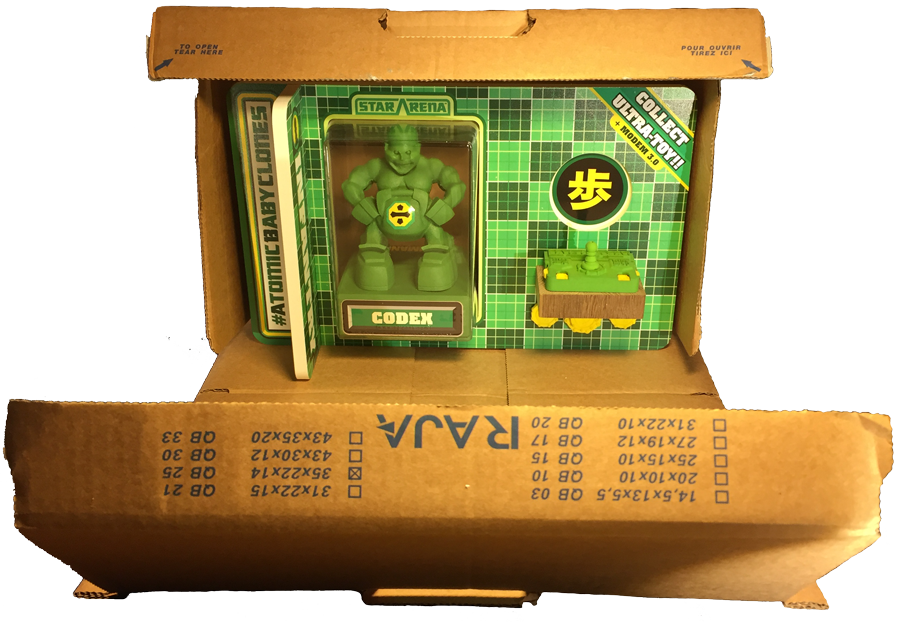 *No~Worries; You will get the Correct Color Clone!
I only took the Green Toy Box picture… Not knowing I was gonna use it…
---
See The Making-Of: Toy-Series_B On ArtStation.com/StarArenaGame
View the Baby Toys in these two Toy Sets below: