Salutations, Reader.
The Empress is one half of the Oyagami that serve The Gunshin, the Grand Architect and Creator of The Arcade. Rarely do they appear in mortal form or figure, nonetheless statues honoring the Ancient Ancestors depict them as Daunting Deities. The eldest Titans are always depicted on towering thrones in their role as Empyrean Gatekeepers to the Sanctum Sanctorum of Sanctuary.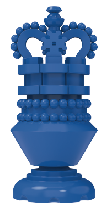 ---
Although their respective Domains lack land or castles, they rule as a Diarchy and answer only to the Chief Deity. The Matriarch and Patriarch are most notorious for their function as Supreme Judges over the Horrendous and Tormenting infernal regions. Each of the Ancient Ancestors presides over the faith of those who seek Sanctuary or stands before the High Court.
---
• The Empress Administers • Hyōketsu Jigoku • 氷結地獄 • (Freezing Hells) •
---
According to the Master of Scrolls, the sentenced have their memories erased, contributing to the anonymity of the Ancient Ancestors. The Oyagami maneuver in realms far away from mortal Operators and are more in tune with the Monastic than Military. Devout monks, who have studied the secret scrolls, conclude that the Titan Elders must maintain a delicate equilibrium.
The Harmonic Sequence alludes to an eternal conflict between Fire and Ice that has existed since the dawn of time. This unbroken primordial Turmoil, interwoven into the fabric of all matter and manifestation, needs to be carefully calibrated and balanced. If one aspect in the war between Order & Chaos becomes dominant, tipping the scales, a counterbalance must be put in place.
The task of keeping this potentially all-destructive Duality in check falls to the Oyagami.
---
Children Of The Empress (女帝)
At most, only a Handful of the First Generation Atomic Baby Clones remain, referred to as 'Thrones' due to their lineage. Much like their parents, they are Master Warriors and serve as Tartarean Bounty Hunters in pursuit of an escaped Outlaw or Pestiferous Beast alike.
The Blue 1st Gens are Neutron Battle Clones, therefore they carry only a Negative charge.
*Replace Artwork: Next Phase
The year is 2520 and 16 Demonic Warlords lay siege on The Arcade and bring with them Legions of Demons from whence they came. An Army that grows with each vanquished Cyber Civilization or Corporation in the meta-numerical universe, as their Quarantined are freed.
The Akuma have unshackled and liberated outlaws, recruiting them as Soldiers from Hell in their conquest to annihilate The Arcade. Suffice it to say; The Gates Of Hell Should Never Have Opened!
The Mega War of 2520 is a Grand Battle Royale about Survival or Damnation.
The Matriarch heeds her call to action, and the Empress must rise from her throne to Battle.
"Pray, You Are Not In The Way Of The 1st Gens!"
---
Next: The Patriarch