GET YOUR 'SPECTRE' WAR-BABY, NOW!!
---
Salutations Reader, This post is to point out that these Not For Sale Gods Vicious Babies; "Can be 'Acquired' as a War Lord Reward on the crowdfunding platform Patreon.com/StarArena."
These Sub Commercial Limited Editions 'War Baby' Works of Art are Uniquely and Sequentially Numbered, Guaranteed One Of A Kind! This Spectre War Baby can be Yours, and 'Only Yours' for the Coin or Credit amount of; € 480,- (ex VAT)
Your Purchase & Patronage will help in the further Game Development of StarArena Games. The Unique Battle Clone below has Serial #032.128A and is 1 of 8 from Gods Vicious Babies: Ultra Toy Set_04. This Toy-Pack contains: 1x Infantry Spectre Baby Clone, 1x Modem_3.0, 3x Star Coins, 1x Meta Coin, comes with a Certificate Of Authenticity and is Signed By The Creator.
These *Big Daddy* Benefactors, who dare adopt a War Baby? Are given the Status of War Lord in the StarArena_MetaVerse records and archives! All Support is received with; "Glory & Gratitude".
NECRO-OUTLAWS: SPECTRE WAR-BABIES
EDIT
---
Only Available

Via

Patreon!
The Product is Packed and ready to be shipped worldwide! Transport costs are included in the Patron Price, so: € 480,- (ex VAT) All-Inn. The outside dimensions are W: 40 x H: 25 x D: 15 Centimeters and weighs ± 1,25 Kilograms. Use PayPal or Credit Card. Once you have been charged, you can 'LOWER' your Membership to a comfortable monthly amount and keep supporting #GameDevelopment! So; Who Dares Adopt A War-Baby!?
*WHEN 'BATTLE UNIT' IS SOLD, BUTTON BECOMES WARLORD REGISTRY.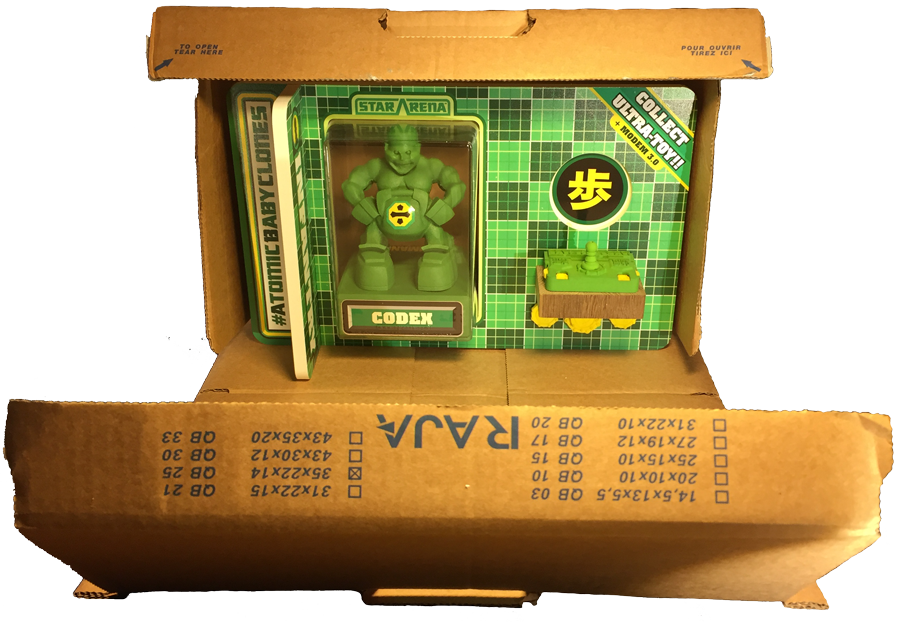 *No~Worries; You will get the Correct Color Clone!
I only took the Green Toy Box picture… Not knowing I was gonna use it…
---
See The Making-Of: Toy-Series_B On ArtStation.com/StarArenaGame
View the Baby Toys in these two Toy Sets below: