Salutations Reader,
This article aims to provide you with the need to know about Star Arena: The Card Game. It is a Cyber Combat Battle Game that follows the front line adventures of War Babies at odds with Evil. These battles take place in The Arcade that is under attack by Evil Forces that crawl out of dark underbelly of Cyber Space and the year is 2520. Your job as a Soldier is to safeguard the Star Arena Meta Verse and; "Kill The Demon Bastards And Send Them Back To Hell!" …What else do you need to know?
How to get your hands on the game cards?
There are three ways to acquire the game cards and start training for battle in the Star Arena.
1: For FREE via the online Booster Pack.
2: Through Early Access via Patronage on the website(s).
3: Or ORDER complete Game Decks and have your Quality Cards delivered.
As explained below…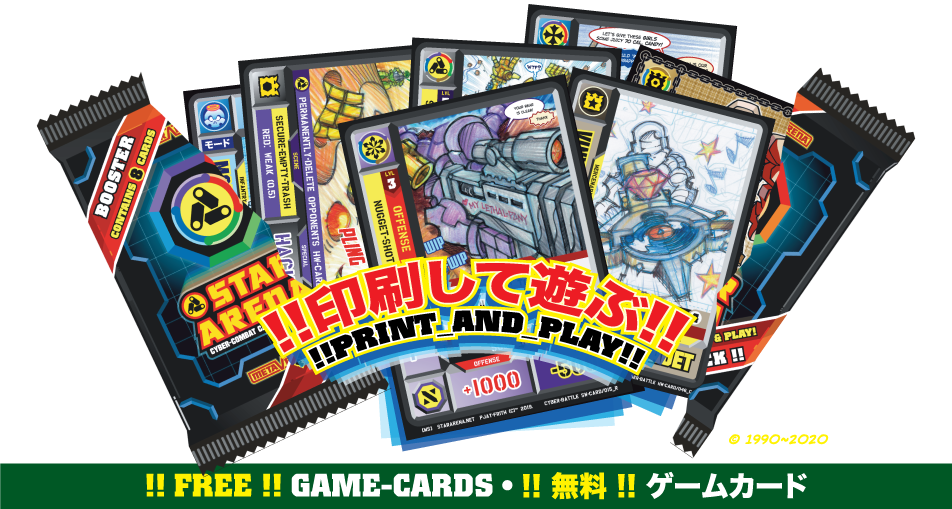 The Goal is to keep all game cards available for !! FREE !! in the online Booster Pack. I reckon this is born from nostalgia? Back when I was a kid _way before before digital devices were common household items_ cereal boxes used to have Cut Out games and characters printed on the back you could play with. To be honest; I like the idea that any kid in the world with a web connection can Print And Play the game!
Thing is; I cannot go all out Santa and only meet you halfway, you must Print before you can Play!
Reload and/or Refresh Screen 'Opens' A New-Booster-Pack!!
Ctrl + F5 or Cmd + R or use Refresh-Icon.
*Make sure you read the Rules-Of-Engagement before getting your Data-Base blown to bits!?
---
---
* Each Web Comic will be published with one or more PDF documents, containing the New Game Cards.
Enjoy The Privilege Of Early Access!
Star Arena: The Card Game is the Heart & Soul of all Star Arena game variants; Become A Patron and Give Coin to The Cause! The formula is simple: Drawing Comics Generates New Game Cards!
If you Sponsor the Creator on Patreon.com/StarArena to be an Artist; You will receive Early Access Privileges that ensure you get to Read & Play the newest Comics & Cards way before the Public can.
Your Patronage also unlocks the Open Studio! This means you get to follow the Artwork up close. If you enjoy 'Hack & Slash' and Cyber Fiction? This is definitely a game to support and deserves backing!
This website is linked to Patron Privileges. In short this means you can use your Patreon account to Unlock the Web Comics and Printable Cyber Cards on both websites! So; …Be A Big Daddy!!
---
---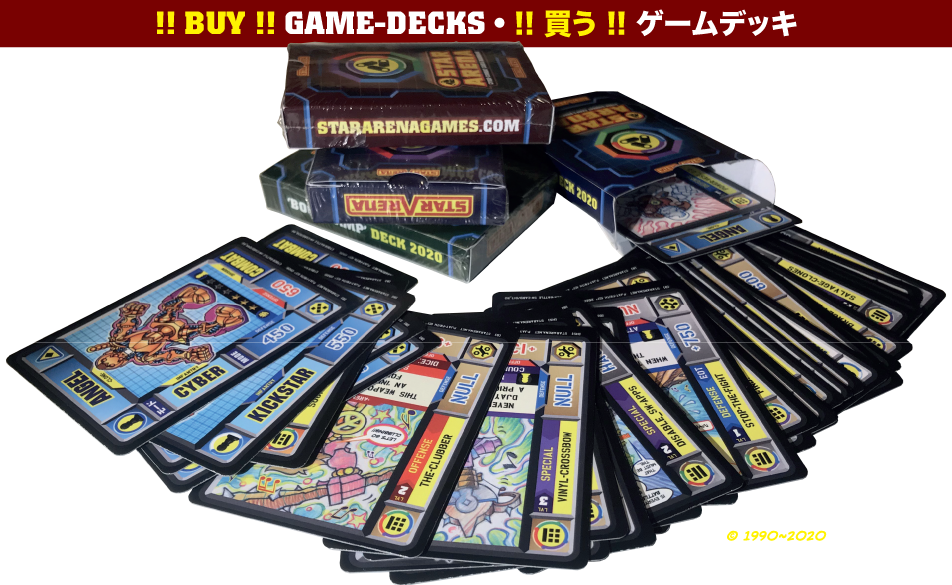 This third option to acquire Star Arena: The Card Game is for those whom demand High Quality cards in their hands! Either you are not into the Hobby, Arts & Crafts or DIY vibe? Or you want to own the Clean & Crispy finished Game Cards to play with in style? Whichever has your fancy, it must be said; The above Print And Play stages are essential to good game development.
The last stage in Card Evolution is reached once the cards have completed their Pilot Phase _being the Print And Play periods you see above_ and are properly battle tested. If need be; revisions are made to the Card Data and collected into Game Decks, ready to be released into the world of global Game Play.
These High Quality game cards are produced at: The Game Crafter and are delivered to your home!
---
Next: The Arena Game