GET YOUR
'MARINE'

WAR-BABY, NOW!!
---
Salutations Reader, This post is to point out that these Not For Sale Atomic Baby Clones; "Can be 'Acquired' as a War Lord Reward on the crowdfunding platform Patreon.com/StarArena."
These Sub Commercial Limited Editions 'War Baby' Works of Art are Uniquely and Sequentially Numbered, Guaranteed One Of A Kind! This Marine War-Baby can be Yours, and 'Only Yours' for the Coin or Credit amount of; € 480,- (ex VAT)
Your Purchase & Patronage will help in the further Game Development of StarArena Games. The Unique Battle Clone below has Serial #019.128A and is 1 of 8 from Atomic Baby Clones: Ultra Toy Set_03. This Toy-Pack contains: 1x Infantry Marine Baby Clone, 1x Modem_3.0, 3x Star Coins, 1x Meta Coin, comes with a Certificate Of Authenticity and is Signed By The Creator.
These *Big Daddy* Benefactors, who dare adopt a War Baby? Are given the Status of War Lord in the StarArena_MetaVerse records and archives! All Support is received with; "Glory & Gratitude".
COMBAT-SOLDIERS: MARINE WAR-BABIES
Inherited from the early beginnings, when the Star Arena was solely a platform to 'Train & Test' the Cyber Soldier of the Future, all terrains are present to emulate the conditions on earth. The 'Guardian God' that presides of the Blue Terrains is Suijin. (水神)
The Blue War Babies are the children of the Water God and therefore best equipped for missions in Aqua Territory! Each Army Division of The Arcade has their own Infantry. Even though it might seem a contradiction in terms; The Aqua Infantry are Foot Soldiers for the Water Army. (No! Not; Navy! This is reserved for the Fleet of Cyber Spacecrafts manufactured for troop deployment and long distance journeys into Deep Space.)
These 'Amphibious' Baby Clones have a longstanding track record for exploring uncharted Cyber Space in this Virtual World. The Special Forces of the Aqua Dominion are know as Marines and are frequently deployed for Reconnaisance Missions in the darker side of the web.
---
Only Available

Via

Patreon!
The Product is Packed and ready to be shipped worldwide! Transport costs are included in the Patron Price, so: € 480,- (ex VAT) All Inn. The outside dimensions are W: 40 x H: 25 x D: 15 Centimeters and weighs ± 1,25 Kilograms. Use Pay Pal or Credit Card. Once you have been charged, you can 'LOWER' your Membership to a comfortable monthly amount and keep supporting #GameDevelopment! So; Who Dares Adopt A War-Baby!?

*WHEN 'BATTLE UNIT' IS SOLD, BUTTON BECOMES WARLORD REGISTRY.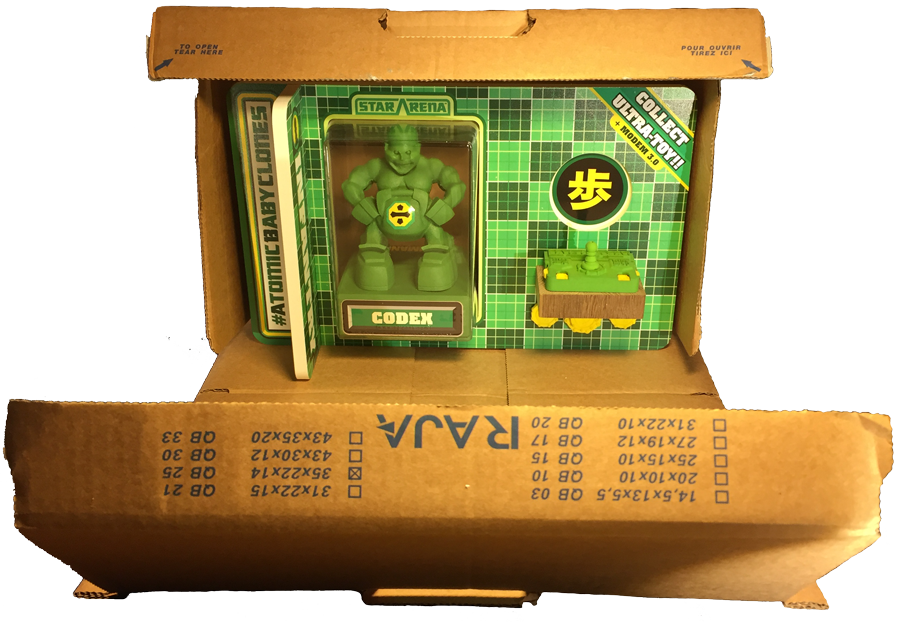 *No~Worries; You will get the Correct Color Clone!
I only took the Green Toy Box picture… Not knowing I was gonna use it…
---
See The Making-Of: Toy-Series_B On ArtStation.com/StarArenaGame
View the Baby Toys in these two Toy Sets below: